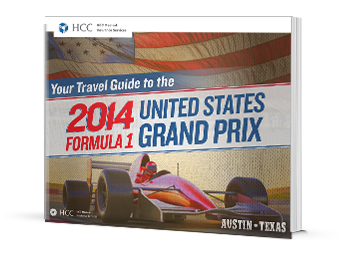 The UNITED STATES GRAND PRIX has emerged as one of the best-attended races on the Formula 1™ circuit. If you're planning to visit Austin for the race, make sure you're ready for the trip.
Download this free Grand Prix™ guide and get primed for race weekend in Austin, a city with a character all its own.


You'll learn about:
---
Austin's top attractions (music, food and more)





Travel resources for your visit to the U.S.





Circuit of the Americas





History of the U.S. Grand Prix





All F1™ drivers and teams





The best ways to get around Austin




Don't leave for the U.S. without travel insurance. Get your free quote.